Odessa Dentist Provides Exceptional Dental Services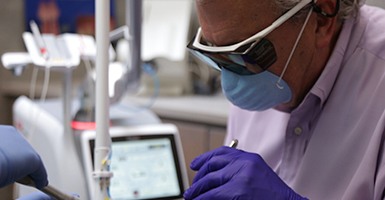 Your oral health is valuable, but it may not last forever without the right levels of professional support and individualized treatment. Here in Odessa, Dr. Steve W. Cobb and the rest of our team are fully committed to providing you with an impressive dental care experience every time you visit. Our services cover a wide spectrum of needs, and our dedication to state-of-the-art technology leads to improved accuracy, added comfort, and quality results.
Our Odessa Dentist
Dr. Steve W. Cobb has countless years of education and experience in the dental field. After receiving his education from Texas A&M School of Dentistry (previously Baylor School of Dentistry)and serving as a Captain in the US Air Force, he practiced in Dallas for 25 years before bringing his expertise to West Texas in 2013. He has lectured on numerous dental topics, been named a Fellow of the Academy of General Dentistry, and was included as one of the top dentists in D Magazine, as well as a "Super Dentist" by Texas Monthly. Today, he is still committed to life-long learning and improving patients' lives through education, skilled intervention, and comprehensive care.
Our Dental Service Options
Whether your dental needs are relatively simple or more complex and involved, our practice is open to you. Prevention is our top priority, and Dr. Steve W. Cobb will work with you closely to ensure that you understand the importance of oral health in relation to overall wellbeing and what can be done to keep common dental problems from developing in the first place. If your smile is damaged or aesthetically displeasing, we have cosmetic and restorative solutions that can create revitalizing transformations. Treatment options that can help patients regain a better quality of life from potentially debilitating conditions like sleep apnea and TMJ disorder are available as well. Our goal is to help you take positive steps towards your ideal smile and overall wellbeing with our guidance.
It's never too late to pursue the oral health you deserve. Contact our Odessa dental practice today if you have any questions or concerns, or if you're ready to schedule an initial consultation. New patients from Midland and other surrounding areas are always welcome.
Our available dental services include the following: