Odessa Preventive Dentistry Protects Your Oral Health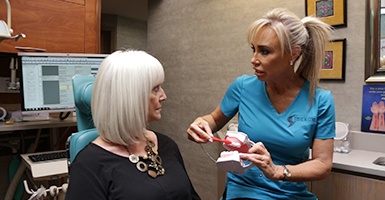 At the dental office of Dr. Steve W. Cobb, we focus on much more than simply repairing what is broken in regards to your oral health – we want to help you stop these problems from ever occurring in the first place through education and quality intervention. Dr. Steve W. Cobb and the rest of our team are passionate about preventive dentistry, and for good reason – your oral health is connected to both your health history and your overall wellbeing. We will work with you to communicate these threads clearly and provide services that are designed to keep your smile safe throughout the years. With the help of our state-of-the-art technology and dedication to patient comfort, you will enjoy fulfilling care experiences at our practice that create long-lasting benefits.
Contact our Odessa, TX practice today if you have any questions, or if you would like to schedule your first appointment. New patients from Andrews, TX and surrounding areas are always welcomed. Our available preventive services include the following:
Dental Check-ups & Cleanings
We strongly recommend that patients of all ages attend at least two check-ups and cleanings each year (or one every six months). Even if you diligently practice good oral hygiene at home, subtler dental concerns can still develop in ways that an untrained eye may not notice. Our comprehensive examinations are designed to identify and treat these problems at their earliest stages so that any damage is kept as minimal as possible, including periodontal and oral cancer screenings, digital X-rays, and more. Additionally, an in-depth cleaning with one of our dedicated hygienists will thoroughly remove decay-causing plaque and tartar from the mouth, leaving your smile revitalized and polished.
Dental Sealants
The deep chewing surfaces of a patient's back teeth can become homes for dangerous bacteria and plaque if they're not cleaned properly. That's why Dr. Steve W. Cobb strongly recommends that young children and adults with increased sensitivity to decay have dental sealants placed on these vulnerable areas. This coating is painted directly onto the enamel and forms a "seal" to keep food and plaque from accumulating, potentially saving patients from cavities.
Nightguards
Many patients who experience a lot of stress in their everyday lives end up suffering from bruxism, a common oral health condition that's characterized by habitual, usually unconscious teeth grinding. Left untreated, this can lead to not only significant dental damage, but chronic pain, severe headaches, and other factors that can impact your day-to-day quality of life. Our quality nightguards can provide the protection you need, minimizing harmful effects with a strong oral barrier as patients rest.
Sportsguards
Athletic patients shouldn't have to hesitate to play their very best at the thought of severe dental damage or pain that's caused by physical contact with hard objects or other players. Instead, your smile can be well-protected with a customized sportsguard from Dr. Steve W. Cobb here in Odessa. One-size-fits-all appliances from your nearest sports store are typically uncomfortable and ineffective – alternatively, our practice can design the ideal model that allows for comfortable breathing and speaking while still ensuring solid protection.
Oral Cancer Screenings
On average, someone dies from oral cancer every hour, and nearly 50% of patients won't go on to live for more than five years past their initial diagnosis. These numbers are staggering, and Dr. Steve W. Cobb is determined to improve them through routine oral cancer screenings. During this vital part of every routine check-up, our team will thoroughly examine the mouth for tell-tale symptoms that point to the presence of cancerous cells. If we locate any suspicious areas, we'll help you take the next steps towards a biopsy and firm diagnosis as early as possible, which can greatly increase your chances of undergoing successful treatment and recovery.
Fluoride Treatment
Fluoride is a natural mineral that can be found in several foods and water supplies. Studies have shown that the introduction of fluoride to drinking water can have positive effects on a person's oral health, strengthening their enamel while the teeth are still developing and aiding in the remineralization process. If you or your loved ones aren't receiving enough daily fluoride, Dr. Steve W. Cobb may recommend a professional application during your routine appointments or integrating fluoridated toothpaste into your oral healthcare routine at home.
Oral Hygiene Products
Everyone needs professional maintenance to ensure a healthier, happier smile over the years, but personal oral hygiene is also a significant factor. Our team offers quality toothpastes, mouthwashes, and other products, and we'd be happy to provide you and your family with recommendations that can bolster the effectiveness of your routine at home.