Enjoy Snap-On Smile® in Odessa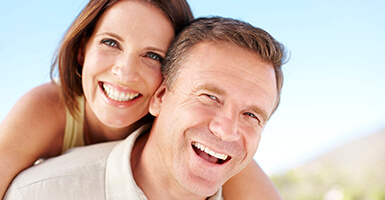 Many patients prioritize convenience and affordability when looking for a cosmetic solution that fits their personal needs. In this case, a Snap-On Smile from Dr. Steve W. Cobb may be the right choice for you. This customized oral appliance is crafted from strong dental resin and is designed to fit comfortably over your natural teeth, essentially "snapping" into place. It can be used as a temporary improvement or a permanent one. Following a brief adjustment period, it should feel natural against your original smile. Patients from Big Spring, TX and other surrounding areas are encouraged to contact us today if you have any questions about this transformative treatment option, or to schedule a cosmetic consultation.
The Snap-On Smile Process
Receiving your own Snap-On Smile is a simple and completely painless process. Here in Odessa, our dental team will take an impression of your teeth and use it to fabricate your individualized appliance – that's all there is to it. Patients won't need to have their natural teeth altered, and the device is designed to cover all of the teeth along the top arch, bottom arch, or even both. We will work closely with you to ensure that the specifications used are precise and to your liking.
Snap-On Smiles can be worn all day with virtually no negative effects regarding your natural teeth. Staining is possible if you consume dark-colored drinks like coffee and wine, but it can be treated effectively with the proper cleaning solution that your packaging depicts. Brushing twice each day, flossing at least once each day, and scheduling routine preventive check-ups with Dr. Steve W. Cobb and our team is still an absolute must. With proper maintenance and personal hygiene, your Snap-On-Smile can be expected to last for several years.