Our Revolutionary Dental Technology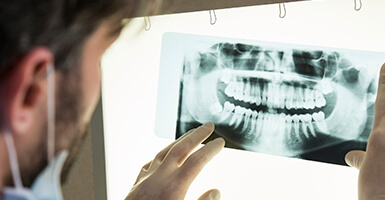 The world of dentistry is constantly evolving to incorporate more and more effective and sophisticated tools and techniques, and Dr. Steve W. Cobb enjoys staying right at the forefront of that growth. Our Odessa practice is outfitted with plenty of state-of-the-art technology that improves your dental experience at every stage, providing valuable diagnostic assistance and making treatment precise and comfortable. Contact us today to schedule your first appointment, or if you have any questions or concerns our team.
Digital Panoramic X-Rays
When it comes to diagnosing dental concerns and preventing significant problems as soon as they develop, X-rays are absolutely essential. Dr. Steve W. Cobb has invested in a state-of-the-art panoramic system that provides a comprehensive view of the patient's entire oral area in a single X-ray, including the positioning of each tooth, areas of decay, and even the presence of oral tumors.
Unlike traditional film, digital X-rays have made this process faster and safer for patients by eliminating the development process and reducing radiation exposure. Our team can even alter the images through computer technology for educational purposes, helping you better understand the realities of your smile and what can be done to prevent dental damage and decay.
Diode Soft Tissue Laser
Our revolutionary diode laser has transformed soft tissue procedures for the better here in Odessa, eliminating traditional scalpel use and improving preciseness and patient comfort throughout treatment. This tool emits concentrated energy in the form of a focused light beam, allowing accurate, virtually bloodless incisions as our team performs periodontal disease therapy or cosmetic crown lengthening. Patients typically experience very little post-operative discomfort as well, and the recovery period is significantly shortened.
Intraoral Cameras
It can be easy for patients to feel like they're merely along for the ride when it comes to their dental care. At our practice, Dr. Steve W. Cobb wants to help you become a fully informed partner instead, and our intraoral camera technology can be a significant source of help in making this goal a reality. Once inserted into the patient's mouth, this tool captures enlarged images of teeth and related oral structures, allowing our team to transfer them to a nearby screen for easy access. With this information on display, Dr. Steve W. Cobb can point out problematic areas and explain the effects of potential treatment options in a much clearer fashion. Patients are able to ask questions, engage with the realities of their oral health, and make informed decisions that will benefit their smile moving forward.
CEREC Primemill Machine
When you need to restore your smile with a dental crown, bridge, or porcelain veneers, you want high-quality, durable materials that also look great. With our CEREC Primemill machine, you'll get all that along with unmatched convenience. This advanced technology allows Dr. Cobb to create beautiful ceramic dental restorations right here in our office while you wait, eliminating the need for a second appointment while still delivering outstanding quality.