Implant-Retained Dentures in Odessa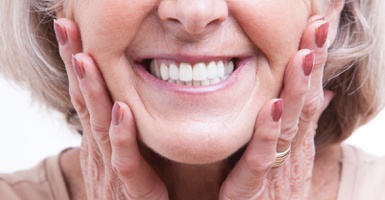 If you have teeth missing, then replacement is essential for the look of your smile, the condition of your mouth and even your overall health. Ignoring tooth loss can lead to various other problems such as gum disease, tooth decay, insufficient diet and feelings of shame and embarrassment.
Fortunately, there are several good tooth replacement options. Implant retained dentures in Odessa combine two of the most popular and best choices. With this prosthetic, you get the look of a complete smile from dentures and the security of dental implants.
Whether you have been wearing dentures for many years are about to receive dentures for the first time, you may be a candidate for implant retained dentures. Dr. Cobb can assess your circumstances and help you decide whether or not implant retained dentures are right for you.
How Do Implant-Retained Dentures Work?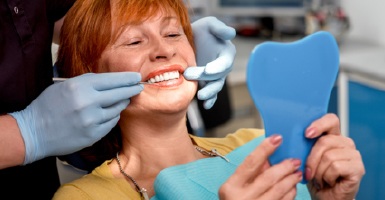 As the name suggests, these dentures—whether fixed or removable—are held firmly in your mouth thanks to dental implants. A dental implant is a small screw that is surgically embedded in your jawbone to hold a tooth restoration in place. The screw is made of the biocompatible metal titanium, which is used in other operative procedures throughout the body including knee and hip replacement.
Dr. Cobb will work closely with one of several professionals in the area that are specially trained in the minor oral surgery required to place dental implants.
In the case of implant-retained dentures, several posts are positioned along your jaw to secure the denture. Special X-rays show exactly where the implants should be positioned in order to take advantage of the greatest bone density. If you only need a partial denture, then the number of implants is fewer. Implant-retained dentures are often used to replace teeth missing along the lower arch, because they are more likely to slip if not firmly secured.
How Long Is the Healing Process After Surgery?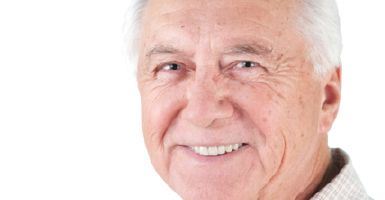 Typically, patients require a few months to fully heal. You'll be given a temporary overdenture to wear during this time that will protect your gums and allow you to chew and smile as usual.
As your gums heal, the dental implants and surrounding bone tissue integrate to form a strong foundation for your dentures. In addition, this integration of implant and bone helps ensure the shape of your jaw by stimulating new tissue growth.
When Dr. Cobb is certain that you've healed and the implants are set, you'll return to his office to have your implant-retained dentures attached. Both fixed and removable options are available. If your dentures ever need adjusting or relining, Dr. Cobb will be glad to make them look and feel like new again.