For Dentures, Odessa dentist Dr. Cobb Offers the Best Cosmetic Choice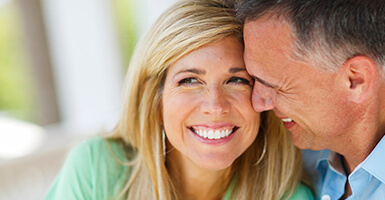 According to the American College of Prosthodontists, some 178 million Americans are missing at least a single tooth and more than 35 million are edentulous, or do not have any teeth. Tooth loss most often occurs as a result of gum disease, but other contributing factors include extensive tooth decay, traumatic injury, oral cancer and abnormal wear.
If you are missing any teeth, then Dr. Steve W. Cobb's goal is to help you achieve the most effective result for your oral health, overall wellbeing and your self-confidence. That's why Dr. Cobb prefers cosmetic dentures. With these, our team is able to provide additional support for facial muscles, improve your oral comfort, and attain dramatic aesthetic improvements. To learn more about cosmetic dentures, Odessa dentist Dr. Cobb would be delighted to meet with you and answer any questions. Contact our office if you're ready to schedule your first appointment. New patients from Big Spring, TX and other nearby cities are always welcome.
What's the Difference between Traditional and Cosmetic Dentures?
Traditional dentures have been relied on for many years, but their pitfalls are numerous and significant. Many patients only regain a small percentage of their original chewing ability, and deteriorating facial muscles are likely to occur over time, which can age a person's appearance prematurely. Consequently, wearers of this type of denture are often dissatisfied with the way their new smile performs and looks.
Cosmetic dentures, on the other hand, are designed to specifically fit the jawbone in a way that supports your facial muscles and prevents noticeable sagging and wrinkling for a more youthful appearance. Cosmetic dentures accomplish this by slightly increasing the distance between your upper and lower jaw. In this way, facial muscles appear lifted, which can reduce the appearance of sagging and wrinkles around your mouth.
Additionally, the dentures are crafted by using injection mold acrylic bases, which result in a more customized and secure fit when compared to the traditional method of dental impressions and heat. This method of craftsmanship helps to eliminate shrinking and warping that can occur with the standard heat curing process. As a result, cosmetic dentures perfectly match your gums for a fit that looks and feels better.
The Creation Process
Our team can determine whether a cosmetic denture will work for your unique situation during a smile restoration consultation. Then, we take the following steps to ensure the positive results you deserve:
Dr. Steve W. Cobb will capture digital X-rays, intraoral photos, and detailed impressions of your natural smile in order to craft a personalized denture that fits your smile securely and comfortably.
Our team can use digital images to let patients essentially "try on" their new dentures before any actual treatment begins. Patients will be able to alter the colors and the sizes of certain teeth to create a prosthetic that they feel satisfied with.
A trusted dental laboratory will create your cosmetic dentures, always keeping durability and superior craftsmanship in mind.
Patients will finally return to our Odessa practice so that we can place the finished denture and make any final alterations – restoring your strong bite, your confident smile, and your quality of life.
Dentures FAQs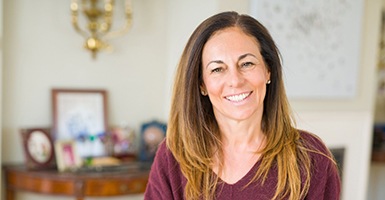 If the idea of receiving cosmetic dentures in Odessa sounds like a good idea, Dr. Steve W. Cobb will be happy to work with you to establish the ideal fit and aesthetic. But before you begin this process, he wants you to be well-informed about the process of receiving these prosthetics as well as what you can expect throughout treatment as well as living life with a new and improved smile. We invite you to review the following questions and answers and contact us if you have any additional inquiries before moving forward with time-tested, safe, and reliable dentures.
Can I Sleep With My Dentures?
While there is no definitive rule that says you cannot sleep with your dentures, your denture dentist in Odessa strongly advises that you remove them before going to bed. The reason is that the circulation throughout your gums and jawbone is restricted throughout the day because of your dentures. Without giving them ample time to breathe, rest, and restore vital nutrients, irritation can occur, resulting in ridge absorption and oral lesions. Also, the area beneath your dentures can harbor many bacteria throughout the day. As a result, you can become more vulnerable to pneumonia if you leave them in at night.
Is It Hard to Talk with Dentures?
If you are receiving dentures for the first time or having a new set created to replace your previous one, you may go through a slight adjustment period. These prosthetics are viewed as foreign objects to your lips, tongue, jawbone, and gums, and will take time for your mouth to work harmoniously. To minimize the timeframe in which you might develop a minor lisp, you can try reading aloud by yourself and speaking slowly to sound out more difficult syllables and words. It is also possible to buy denture adhesive to add another layer of protection.
Can I Use Regular Toothpaste to Clean My Dentures?
Instead of relying on regular toothpaste to clean your dentures, you'll need to make sure to use either mild hand soap or dishwashing liquid. You can also purchase denture cleaners to ensure they are free of bacteria and harmful particles. Traditional toothpaste is highly abrasive and can scratch your denture. Over time, continued use will result in significant damage to your prosthetic. You should make sure to clean your dentures every day, specifically after every meal, just make sure you're using a soft-bristled toothbrush and the appropriate type of cleaner.
What is the Average Age for Dentures?
According to the National Center for Health Statistics, an average of 66% of adults between the ages of 40-64 has at least one missing tooth. This is in comparison to 33% of adults between the ages of 20-39. Dentures are far more common for older individuals, especially those over the age of 40. Nearly 57% of people ages 65-74 have some type of denture according to the American Dental Association, but younger individuals can benefit from these prosthetics as well. As tooth loss becomes more common because of health-related conditions, it is believed the majority of patients seeking dentures are those who are generally of an older demographic.