Odessa Dental Implants Rebuild Your Smile Beautifully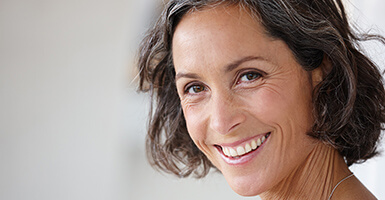 Whether you're missing a single tooth or several, this kind of loss can have far-reaching consequences for your oral health, your smile's function, and your overall sense of self-confidence and wellbeing. At the dental office of Dr. Steve W. Cobb, our team can help you regain what was lost through quality reconstructive care.Dental implants are right at the forefront of these options because of their superior structure and revitalizing benefits. We will work with a trusted specialist in the area to ensure a successful, comfortable process that exceeds your expectations. Contact our Odessa, TX practice today to schedule your first appointment, or if you have any questions.
Benefits That Can Change Your Life
While most tooth replacement options only concern themselves with the crown (the white, visible portion) of the tooth, there's also a root underneath that's keeping the jawbone dense and strong. Once that root is gone, patients can suffer from significant tissue deterioration, leading to damage that affects both their oral health and their facial appearance. Dental implants circumvent this problem by replicating the root of the tooth in a virtually seamless fashion; in fact, the implants themselves are designed to form a natural bond with the bone through a process that's known as osseointegration. Additional benefits of dental implant-supported smile restoration include increased stability, permanence, strength, and lifelike quality.
The Dental Implant Process
In order to offer patients the successful results they deserve, Dr. Steve W. Cobb partners with local, trusted professionals for the surgical placement of your implants. Together, they will create a surgical placement plan that allows your designated surgeon to quickly, accurately, and effectively place and position the dental implants so as to provide optimal support. This surgery is minimally invasive, and patients will typically recover in just a few weeks. Then, a healing process will begin, during which the supporting alveolar bone and gum tissue will regrow to support and bond with the new implant(s) through osseointegration. This will typically take anywhere from a few weeks to several months, depending on the particulars of the patient's case.
Once the implant has successfully fused with the patient's jawbone, it is time to complete them with personalized, high-quality restorations that our team has personally designed. There are multiple options for replacement, including:
Implant-retained dental crowns: Metal-free dental crowns can be used to restore single implants in a conservative fashion that requires minimal alteration to nearby healthy teeth.Learn More
Implant-retained dental bridges: Instead of having to damage healthy teeth to accommodate the placement of a traditional bridge, this modern appliance can be attached over a small number of placed implants.Learn More
Implant-retained dentures: Implant-retained dentures are designed to restore several implants in a sturdy and cost-effective fashion. Both fixed and removable options are available, depending on the patient's current level of oral health and personal preference. Learn More
Dr. Steve W. Cobb can also design and place restorations for All-On-4/Teeth-In-A-Day cases. If you'd like to learn more or schedule your own implant consultation, patients from Midland, TX and surrounding areas are always welcome to contact us.