April 6, 2023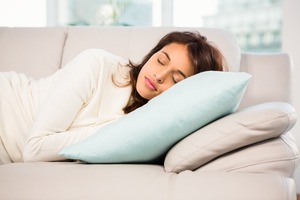 Sleep apnea actively prevents you from getting enough sleep at night thanks to interruptions in your breathing repeatedly forcing your brain to wake you up. What can you do about this lack of rest? At first glance, it may seem like taking a nap might help; in truth, it could ultimately end up causing more problems than it solves. Here's why napping often isn't the best choice when you're in the middle of sleep apnea treatment.
Why Should You Avoid Napping with Sleep Apnea?
First of all, despite what you might think, getting a little bit of rest during the day won't make up for any sleep lost due to apnea episodes. This is because sleep is actually cumulative; people who get less slumber on average tend to have a greater sleep debt that can't be covered by napping alone.
Another issue is that napping can throw off your circadian rhythm, which is the term for your body's normal 24-hour cycle. People who take naps often have a harder time falling asleep at night – which is not a problem you want to have when you're already dealing with sleep apnea.
Also, being as tired as possible makes it easier to drift off even while you're still getting used to a new oral appliance; since napping leaves you feeling less tired at night, it could make it harder to adjust to your treatment.
So What Can You Do Instead to Make Managing Sleep Apnea Easier?
While napping may not be a viable remedy, there are plenty of other steps you can take to improve your rest when you have a sleep disorder. In addition to talking to a professional about what kinds of treatment are available, you can also:
Switch to a new sleeping position: Sleeping on your back can make sleep apnea worse, but many people find their symptoms improve when they sleep on their sides instead.
Get a new pillow: Your pillow can affect your ability to get quality sleep. The kind of pillow you might benefit from depends on your situation. For example, a thicker pillow might help people who sleep on their sides.
Invest in a humidifier for your bedroom: Sleep apnea is often linked to dry mouth and sore throat. A humidifier can help ease these types of symptoms.
Take steps to lose weight: Body weight and sleep apnea are often closely linked. It may be worth changing your diet to try and lose a few pounds.
A sleep dentist can give you additional advice for dealing with sleep apnea based on what symptoms you're experiencing and how severe they are.
About the Author
Dr. Steve W. Cobb studied at the Baylor School of Dentistry to earn his Doctor of Dental Surgery, and he has served as a Captain in the United States Air Force. His current practice in Odessa offers a full range of treatments, including oral appliances for sleep apnea. If you would like to schedule a consultation with Dr. Cobb regarding your sleep disorder, visit his website or call (432) 367-4774.
Comments Off

on Why Napping Isn't a Good Idea When You Have Sleep Apnea
No Comments
No comments yet.
RSS feed for comments on this post.
Sorry, the comment form is closed at this time.