Nitrous Oxide Sedation Dentistry in Odessa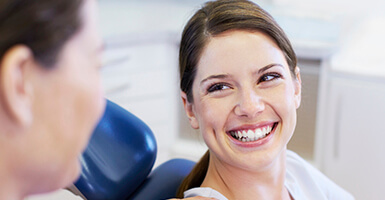 Dental-related feelings of anxiety, nervousness, and outright fear are common among patients of all ages, and Dr. Steve W. Cobb and the rest of our team understand that very well. Our goal is to help make your care experience as comfortable and enjoyable as it can possibly be, and sedation dentistry with nitrous oxide can be a significant source of help in achieving that goal. Please contact our Odessa location today if you're interested in receiving nitrous oxide during your next appointment, or if you have any questions.
Also known as "laughing gas," nitrous oxide has several valuable benefits. The gas is administered through a mask that fits over the nose, and after a few minutes of calmly breathing it in, patients should begin to feel more relaxed and content. The amount each person is receiving can be lessened or increased depending on their response by our team for a more ideal experience. Better yet, once your treatment is finished and the mask is removed, the results wear off just as quickly as they began. This is excellent news for patients who need to return to work or drive themselves home, virtually eliminating the need for downtime while still allowing you to receive the quality dental care your smile needs.