October 19, 2022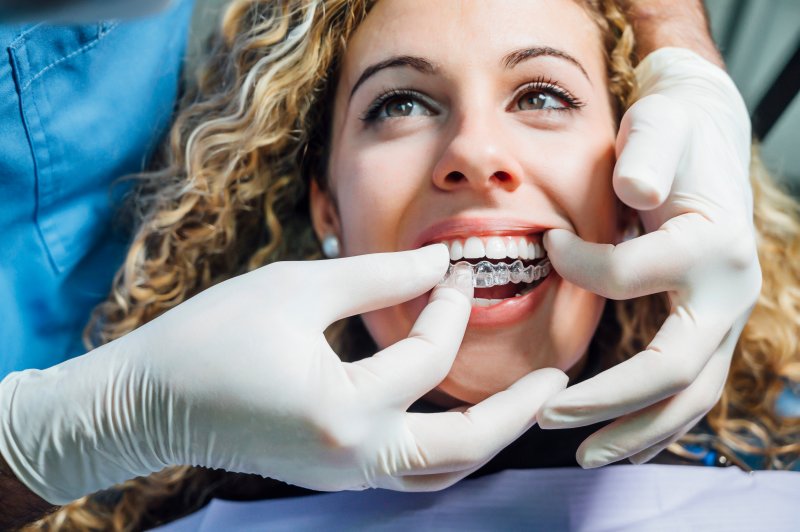 Have you recently turned on the TV to see one of the many do-it-yourself clear aligner systems? Promoted as an affordable option that produces amazing results in less time, it may be tempting to give in to the hype and give them a try. But before you pick up the phone to place an order, a dentist is here to share four reasons why Invisalign aligners are better than DIY solutions.
Why Choose Invisalign Over DIY Clear Aligner Systems?
What many of these companies try to entice prospective patients with is the price tag. Yes, they may be cheaper, but if you're not careful, you may sacrifice quality, which can be dangerous for your oral health.
To ensure that your teeth stay on the right track toward improved alignment, here are four reasons to stick with Invisalign:
You Are Not Responsible for Capturing Your Impressions
Making sure that the impressions captured of your teeth are precise and accurate is essential. With DIY clear aligner solutions like Smile Direct Club, you are tasked with taking your own impressions. If you are not trained to do this correctly, you can cause more harm to your teeth than you might think. Your aligners will not fit properly, causing problems with your smile. However, with Invisalign, your dentist will take care of this step, ensuring that the model technicians receive will lead to comfortable and effective aligners.
Your Smile is Cleared to Undergo Clear Aligner Treatment with Invisalign
Not all patients are good for clear aligner treatment. Some cases are complex and require more traditional orthodontic options (i.e., metal bracket-and-wire braces). If you are not seen by a trusted professional for a consultation beforehand, you may be entering into a treatment plan that is not good for your smile.
You Are Monitored By a Qualified Professional
DIY solutions entice potential clients by promoting a self-monitored approach. Instead of making appointments regularly, you can talk to a professional virtually and even take images of your progress. But many patients tend to monitor their own tooth movement. This can lead to significant issues, as dentists and orthodontists can catch problems that patients may not see or believe to be problematic.
Invisalign is Approved by the American Association of Orthodontists (AAO)
When choosing a clear aligner system to straighten your teeth, it's important that it is recognized and approved by trusted dental organizations. In the case of Invisalign, the American Association of Orthodontists (AAO) and the American Dental Association (ADA) recognize it as a viable and effective form of treatment; however, they do not recommend or encourage anyone to pursue DIY solutions because these companies do not provide supervision by qualified dental professionals.
Invisalign aligners deliver safe, effective, and long-lasting results, so make sure you're placing your oral health in the hands of a trusted dentist who can ensure the future of your smile.
About the Author
Dr. Steve Cobb received his undergraduate education from Howard Payne University and then attended Baylor School of Dentistry where he completed his Doctor of Dental Surgery. If you are interested in straightening your teeth and improving your smile, call (432) 367-4774 or visit our website.
Comments Off

on 4 Reasons Why Invisalign is Better Than DIY Clear Aligners
No Comments
No comments yet.
RSS feed for comments on this post.
Sorry, the comment form is closed at this time.