August 7, 2021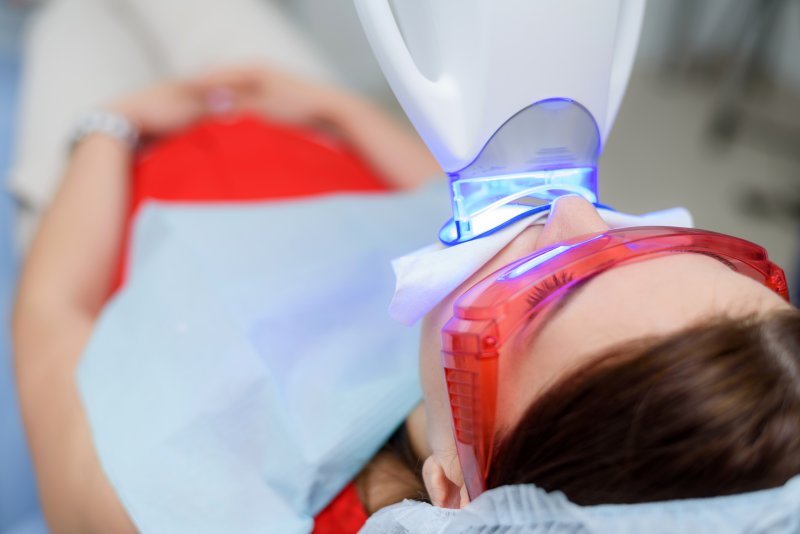 You know you're tired of looking in the mirror only to be met with teeth that are plagued with dull and yellowed stains. You want to see a vibrant, beautiful, and younger-looking smile that helps you exude confidence wherever you go. But when it comes to deciding between professional teeth whitening or a store-bought kit, which one should you choose? A local dentist explains why it is better to entrust someone with experience to brighten your smile than to try and do it on your own with one of the many over-the-counter brands.
Why Store-Bought Kits Don't Cut It
When walking down the aisle of your local drug store, you're likely to see shelves lined with all types of whitening products. From strips and trays to gels and special lights, they sound easy enough to use, and they promise outstanding results. Unfortunately, most leave individuals underwhelmed but willing to pay more for another kit in an attempt to achieve a desired look.
Many of these over-the-counter solutions contain hydrogen peroxide. While it is known to eliminate stains, the concentration found in these products is much lower than those used by professionals. Also, depending on the type of stains you have (intrinsic or extrinsic), these options may only help to eradicate those found on the surface. Not to mention, many OTC whitening products can cause tooth sensitivity!
Why Professional Whitening is Better
If you're considering putting your hard-earned dollars toward teeth whitening, it's far better to allow a professional to help you through the process, and here's why:
The products used by dental professionals are safe and much more effective. Using high-grade bleaching agents, the process allows for your team to eliminate stains above and below the surface of your tooth enamel. Depending on the specific product used to brighten teeth, it may be necessary to apply a special light to help the bleaching agent penetrate the enamel and dentin layers, effectively blasting away discoloration along the way.
Professional teeth whitening is often much quicker, especially for those dentists who offer in-office treatment. Typically, a standard visit can take under one hour, but if you choose to whiten your teeth at home using a system provided by your dentist, you'll see noticeable results in as little as two weeks.
Also, instead of worrying that you may be doing it wrong, a professional dentist is someone you can trust to keep you and your teeth and gums safe from irritation and harm throughout the process.
When whitening your teeth, don't fall victim to the promises and gimmicks offered by many of the over-the-counter brands. Trust your smile to the professionals.
About the Author
Dr. Steve Cobb is a United States military veteran who served as a Captain in the U.S. Air Force and completed his Doctor of Dental Surgery degree from Texas A&M School of Dentistry. With more than 36 years of experience working in dentistry, he has been helping the residents of Odessa and its surrounding communities ever since. Offering teeth whitening and other cosmetic services, he and his team are here to provide top-notch care to individuals who want a whiter, brighter smile. If you're ready to make changes to your smile's appearance, call (432) 367-4774 or visit our website.
Comments Off

on Should I Choose Professional Teeth Whitening Over a Store-Bought Kit?
No Comments
No comments yet.
RSS feed for comments on this post.
Sorry, the comment form is closed at this time.