November 15, 2022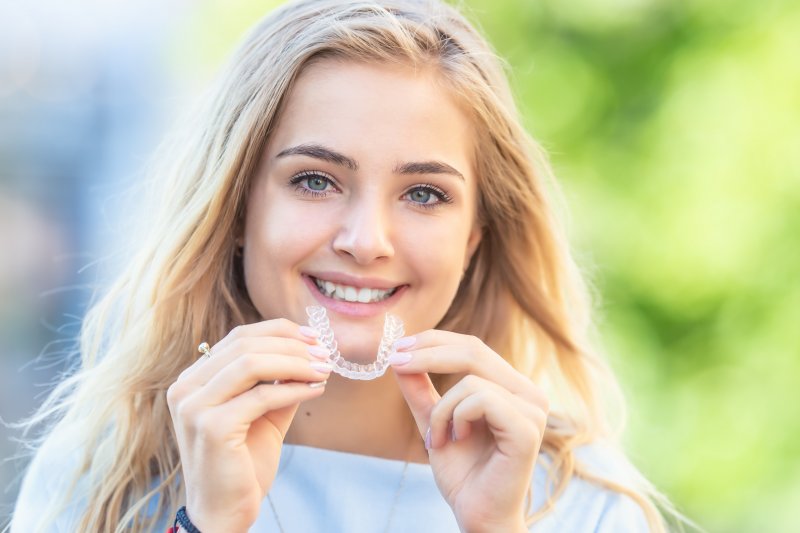 As an adult, you may be hesitant to commit to orthodontic treatment because you want to avoid the hassle of metal wires and brackets. Fortunately, you no longer have to rely on traditional methods to achieve your dream look. Thanks to Invisalign in Odessa, you can work towards a straighter smile without compromising your appearance! Before committing to treatment, you probably want to know how long it'll take. Read on to learn more about the average timeline of this process and how you can ensure successful treatment.
How Long Does Invisalign Treatment Take?
Unlike traditional metal braces, Invisalign uses a series of clear aligners to gently move your teeth into proper alignment. Each set of plastic trays is worn for a predetermined amount of time (usually two weeks) for at least 20-22 hours a day. You must swap them out as instructed to effectively move your teeth toward the end goal.
Since every smile is unique, each person's teeth will move at a different pace. It's impossible to say exactly how long Invisalign treatment will take until you've attended a consultation with your dentist or orthodontist. While the average completion time is about a year, you may require more or less time depending on your unique case.
Why Does Invisalign Need Different Lengths of Time?
The total amount of time needed to complete Invisalign in Odessa varies based on several factors. Some of those include:
Severe Alignment Issues – If you have severe dental misalignment, your teeth will require more in-depth changes.
Crowding – While mild crowding can be addressed within a few months, severe crowding may require an indefinite number of aligners.
Gaps in Teeth – Minor gaps take much less time to fix than severe ones. Depending on the severity of your case, you can expect your treatment to take as long as 18 months because the teeth have to move more distance.
Patient Age – Since teenagers are still growing, their teeth tend to move faster and easier than adults. Of course, there are some people whose teeth naturally move faster than others, regardless of age.
Treatment Compliance – You must diligently follow your treatment plan to ensure the best results. Otherwise, you could extend your treatment time significantly.
Tips to Help Invisalign Work Best
Although you can't necessarily speed up your Invisalign timeline, there are many steps you can take to avoid complications that require more aligners. Here are some tips to help you get the most out of your treatment plan:
Wear your clear aligners for the instructed amount of time each day
Change your plastic trays on the prescribed schedule
Be patient and always remember that movements happen in small increments
The best way to find out how long your Invisalign treatment will take is by scheduling a consultation with your dentist in Odessa. With their help, you'll have the beautifully straight smile you've always wanted in no time!
About the Author
Dr. Steve W. Cobb has over 42 years of dentistry experience under his belt. He's a proud Fellow of the Academy of General Dentistry – a distinction earned by only a few dentists across the country. Dr. Cobb enjoys transforming smiles and helping patients achieve their dream looks. To learn more about Invisalign or to schedule a consultation, visit his website or call (432) 367-4774.
Comments Off

on You Asked, We Answered: How Long Does Invisalign Take?
No Comments
No comments yet.
RSS feed for comments on this post.
Sorry, the comment form is closed at this time.