December 15, 2022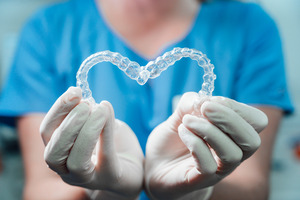 More and more people are choosing Invisalign over traditional braces to achieve straighter, healthier smiles. Have you been thinking about using this treatment to correct the alignment of your own teeth? Before you start the process, you should make sure that you have a full understanding of what to expect. Here are some brief but helpful answers to 4 common Invisalign questions that might be on your mind.
1. How Long Does Invisalign Treatment Take?
It's estimated that the average Invisalign treatment lasts around 12 months, but this isn't going to be the case for every patient. There are several factors that can potentially affect the overall timeline. For example, it's generally faster to straighten teeth that are slightly crowded together than it is to correct a significant bite problem.
At your initial Invisalign consultation, your dentist can evaluate the different factors that may affect the timeline and give you a ballpark of how long you can expect the process to last.
2. What Can You Do to Prevent Aligners from Staining?
Over time, stains can form on your aligners, giving them a yellow or brown tint that makes them more visible on your smile. Fortunately, there are a few steps you can take to minimize the risk of staining:
When you take your aligners out, brush them thoroughly. (Do not use toothpaste, as doing so could scratch the plastic.)
Stay away from coffee, tea, and other beverages that can easily cause staining.
If you smoke, take whatever steps you can to quit.
Periodically soak your aligners in lukewarm water mixed with vinegar for 20 minutes.
3. Will Invisalign Affect How You Speak?
In some cases, Invisalign does cause a slight lisp at first. This is usually a temporary problem; it should go away once your tongue is used to the presence of your aligners.
Many people only have their Invisalign lisp for about a week. If you'd like to speed up the process, you can practice a few speaking exercises, such as counting from sixty to seventy multiple times. The more often you repeat the sounds that are giving you trouble, the easier it will be for your mouth to adjust.
4. What Should You Do If an Invisalign Aligner is Torn?
On occasion, one of your aligners might become torn when you remove it. This isn't always a major issue; if it's a small tear, you may be able to continue wearing your current aligner as long as it still fits properly on your teeth.
On the other hand, if there's a larger tear, you may want to reach out to your dentist to see what they suggest. In some cases, the problem can be solved simply by switching to the next set of aligners a couple of days early; in other situations, a replacement might be required.
About the Author
Dr. Steve W. Cobb earned his Doctor of Dental Surgery at the Baylor School of Dentistry. He has over 45 years of dental experience, and he loves how his job lets him change smiles and lives for the better. His practice offers several cosmetic treatments, including Invisalign for straightening crooked teeth and correcting misaligned bites. To schedule a consultation with Dr. Cobb at his Odessa practice, visit his website or call (432) 367-4774.
Comments Off

on 4 Important Questions About Invisalign
No Comments
No comments yet.
RSS feed for comments on this post.
Sorry, the comment form is closed at this time.